Thought Of The Day Quotes About:
13-year-old Amy was late to school. At breakfast, she argued with her mom and went to school feeling sullen and angry about everything. She hated starting her day like that.
It's frustrating to start the day on a wrong note, isn't it? So why not try something new at home? Have a 'thought of the day' board that helps you and your kids start the day on a positive note, every single day. If you are up for it, MomJunction gives you some of the best thought of the day quotes for children, to inspire them, give them hope and put a smile on their face.
Simple Thought Of The Day Ideas For Kids
Kids don't need philosophy to think positively. They just need simple, inspiring statements. Here are a few that can pep them up early in the day!
"With the new day come new thoughts and new strengths." – Eleanor Roosevelt
I think I can. I know I can.
"You're off to great places. Today is your day." – Dr. Seuss
Treat others the way you want to be treated.
Your attitude determines your direction.
You will never have this day again. So make it count!
7.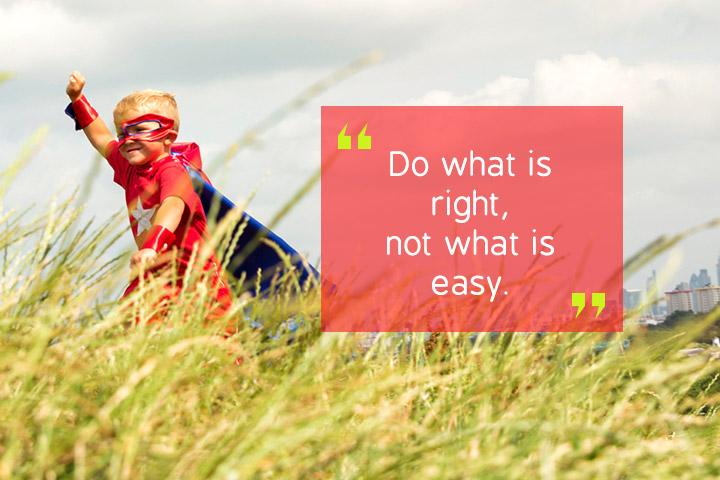 We make our choices. Then our choices make us.
Where there is a will, there is a way.
Today is a great day to learn something new.
Every day may not be good. But there is something good in every day.
Yesterday is gone. Tomorrow has not come yet. We have only today. Let us begin.
You only live once. But if you do it right, once is enough.
[ Read: Funny Exam Quotes For Kids ]
Thought Of The Day Quotes About Success
Success is not about being competitive and scoring more. It is about achieving something that is meaningful to your child. Here are a few quotes about success for your kids.
14.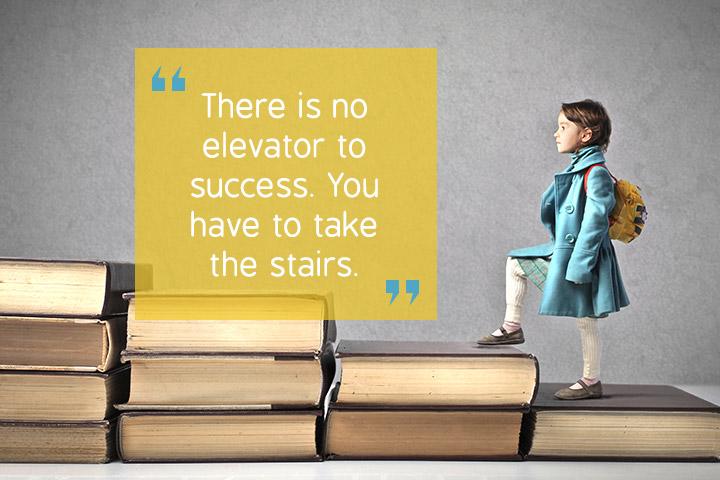 "Action is the fundamental key to success." – Pablo Picasso
"The expert in anything was once a beginner." – Helen Hayes
"Preparation is the key to success." – Alexander Graham Bell
"The most certain way to succeed is always to try just one more time." – Thomas A. Edison
"Only those who dare to fail greatly can ever achieve greatly." – Robert F. Kennedy
Be positive, patient and persistent. And you will be successful.
21.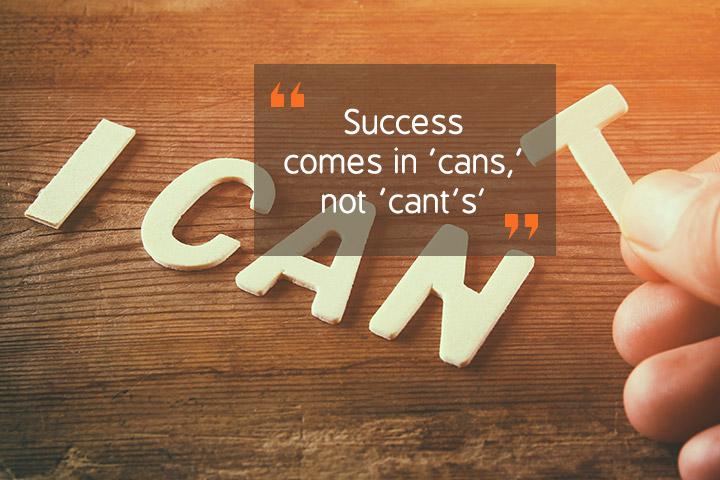 "The future depends on what we do in the present." – Mahatma Gandhi
"Winning doesn't always mean being first. Winning means you're doing better than you've done before." — Bonnie Blair
Never give up something that you really want. It is difficult to wait, but more difficult to regret.
"I never dreamed about success. I worked for it." – Estee Lauder
Do not give up, the beginning is always the hardest.
"Success is the sum of small efforts, repeated day in and out." – Robert Collier
28.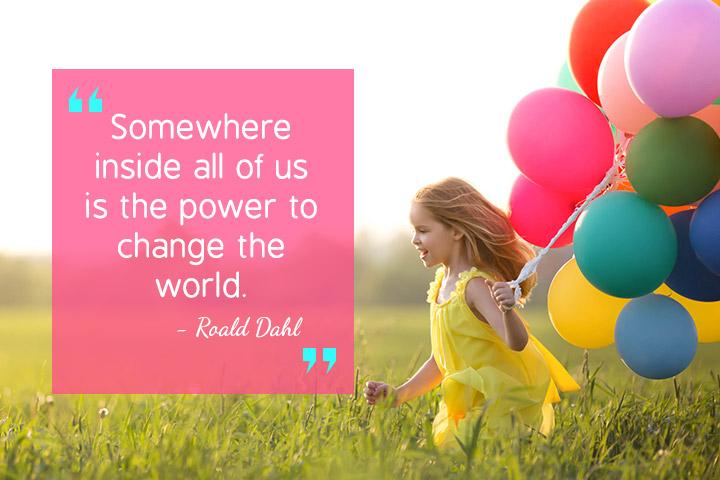 Mistakes are proof that you are trying.
"Choose a job you love, and you will never have to work a day in your life." – Confucius
Fall seven times, stand up eight. – Japanese proverb
"Go confidently in the direction of your dreams. Live the life you have imagined." Henry David Thoreau
[ Read: Smile Quotes For Children ]
Thought Of The Day Quotes About Learning/Education
The importance of education cannot be stressed enough. And without knowing the value of education, children may not be able to make the most of it. So, here are some thoughts that will make them ponder over why they should get an education.
"When you know better, you do better." – Maya Angelou
34.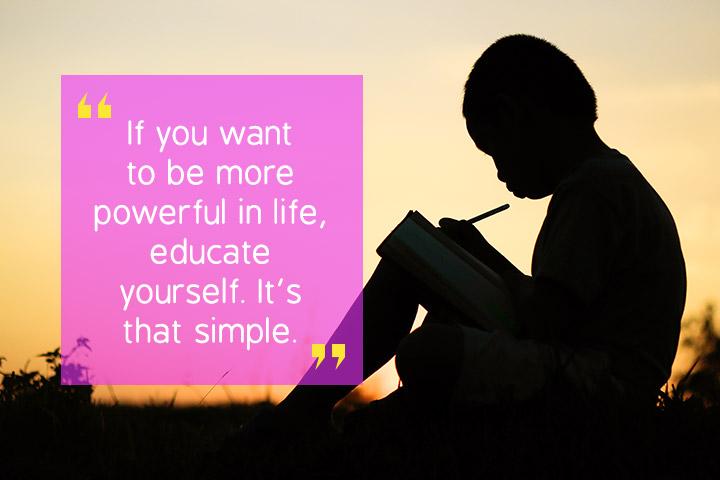 "You learn something every day if you pay attention." – Ray LeBlond
When you talk, you are only repeating what you already know. But if you listen, you may learn something new.
"Learn as much as you can while you are young, since life becomes too busy later." – Dana Stewart Scott
"Educating the mind without educating the heart is no education at all." – Aristotle
"The capacity to learn is a gift; the ability to learn is a skill; the willingness to learn is a choice." – Brian Herbert
"Education is the passport to the future, for tomorrow belongs to those who prepare for it today." – Malcolm X
Listen to everyone and learn from everyone, because nobody knows everything but everyone knows something.
42.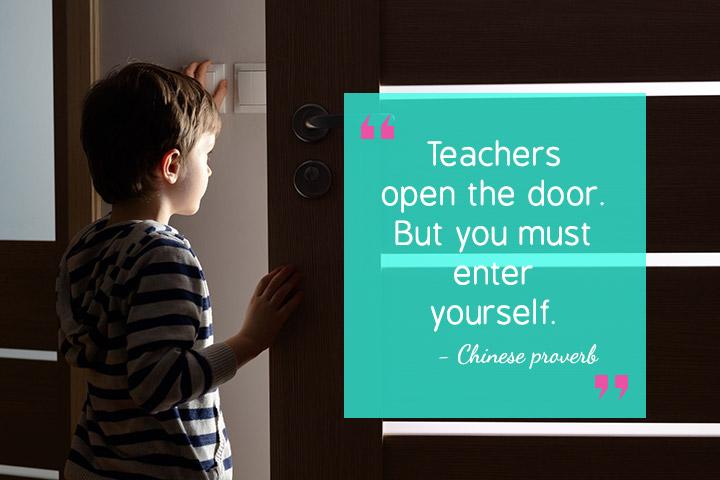 "Education is not the learning of facts, but the training of the mind to think! "- Albert Einstein
"Education is the most powerful weapon which you can use to change the world." – Nelson Mandela
[ Read: Comic Books For Kids ]
Thought Of The Day Quotes About Kindness
We do not learn about kindness in school. But we hear about it in stories and see it in action. And that is how we learn to be kind. These quotes are not for teaching your kid to be kind. They are to remind the kids the importance of kindness in life.
"No act of kindness, no matter how small, is ever wasted." – Aesop
"A little thought and a little kindness are often worth more than a great deal of money." – John Rushkin
47.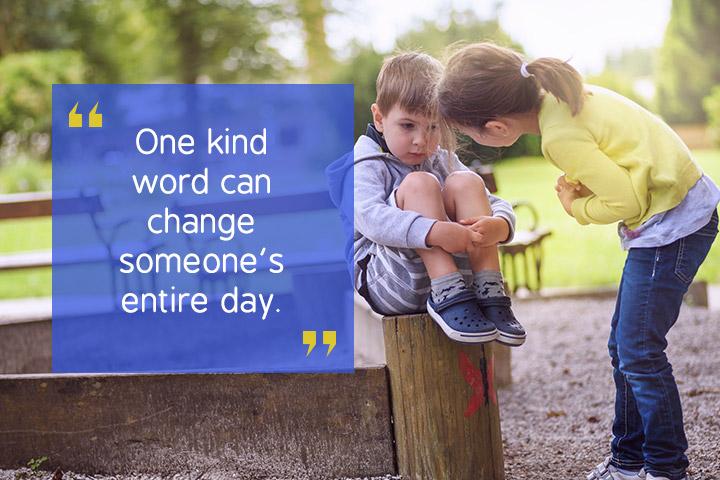 "Act with kindness but do not expect gratitude." – Confucius
"If we all do one random act of kindness daily, we might just set the world in the right direction." -Martin Kornfeld
If you have to choose between being kind and being right, choose to be kind, and you will always be right.
Good manners and kindness are always in fashion!
"We can't help everyone. But everyone can help someone." – Ronald Reagan
"Be helpful. When you see a person without a smile, give them one of yours." – Zig Ziglar
In a world in which you can be anything, be kind.
55.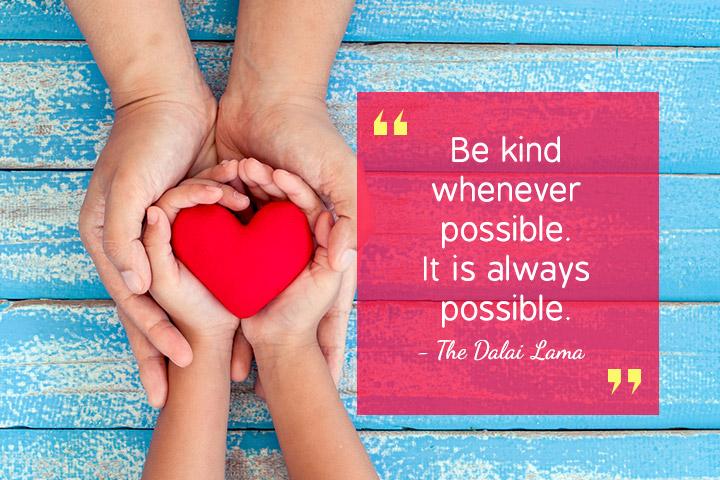 [ Read: Quotes That Are Words Of Encouragement For Kids ]
Thought Of The Day Quotes About Courage/Fear
Fear can be crippling. It is what keeps us from reaching our goals. It prevents us from being who we really are. The good news is that you can overcome fear with knowledge and conviction. You can learn to be courageous. And sometimes, a few kind words or quotes about courage are all you need to take that first step to defeating fear.
"Courage: the most important of all virtues because without it, you cannot practice any other virtues." – Maya Angelou
"Courage does not always roar. Sometimes it is the little voice at the end of the day that says 'I'll try again tomorrow.'" Maya Anne Radmacher
Inhale courage, exhale fear.
"Success is not final, failure is not fatal: it is the courage to continue that counts." – Winston Churchill
"All our dreams can come true, if we have the courage to pursue them." – Walt Disney
61.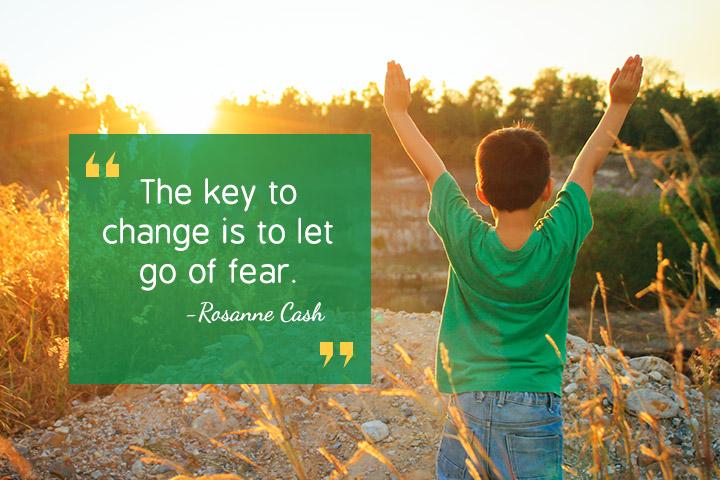 Never let your fear decide what your future will be.
"Courage is like a muscle; it is strengthened by use." – Ruth Gordon
Make your vision so clear that your fears become irrelevant.
Thought Of The Day Quotes About Character
Your character is who you choose to be. Your values, your ideas, and attitude are what determine how your character gets molded. Here, we have some powerful quotes that can inspire and encourage children to build a character that is strong, virtuous and unique to them.
"Be more concerned with your character than your reputation, because your character is what you really are, while your reputation is merely what others think you are." – John Wooden
66.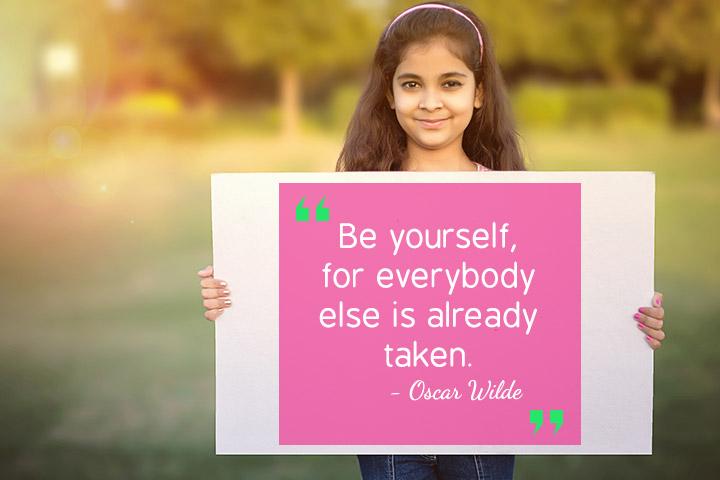 A true test of character isn't how you are on your best days but how you act on your worst days.
"Show respect even to people who don't deserve it; not as a reflection of their character, but as a reflection of yours." – Dave Willis
"Character is doing the right thing when nobody is looking." – JCWells
"Why fit in when you were born to stand out?" – Dr. Seuss
The real test of character is how you treat the people you do not have to be nice to.
You can tell a lot about a person's character by what they laugh at.
What one can be one must be.
74.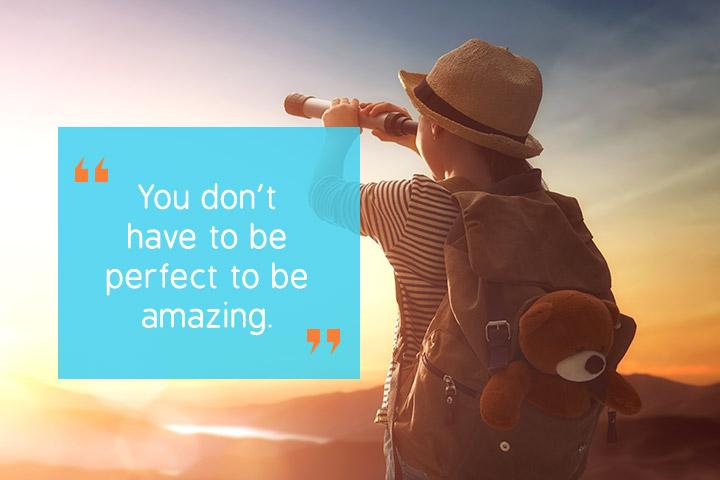 [ Read: Best Story Books For Kids ]
Thought Of The Day Quotes About Imagination/Creativity
'Imagine' is a powerful word for it can lay the foundation for creative geniuses who give the world some of the best inventions that humankind has ever seen. Here are a few quotes that encourage imagination and creative thinking.
"Without leaps of imagination or dreaming, we lose the excitement of possibilities. Dreaming, after all, is a form of planning." – Gloria Steinem
"Creativity is inventing, experimenting, growing, taking risks, breaking rules, making mistakes and having fun." -Mary Lou Cook
Worry is a misuse of your imagination.
"Logic will take you from A to B. Imagination will take you everywhere." – Albert Einstein
79.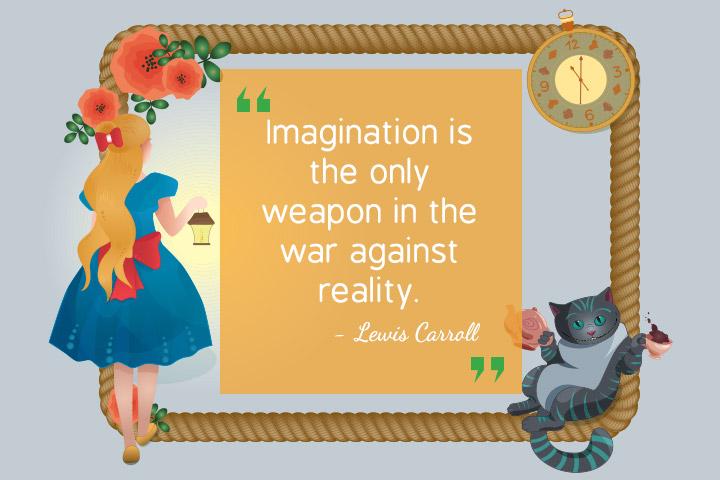 "Imagination is the highest kite that can fly." – Lauren Bacall
"Imagination means nothing without doing." -Charlie Chaplin
"You can't use up creativity. The more you use, the more you have." – Maya Angelou
The earth without 'art' is just 'eh.'
"What you think, you become. What you feel, you attract. What you imagine, you create." – Buddha
"Creativity is intelligence having fun." -Albert Einstein
86.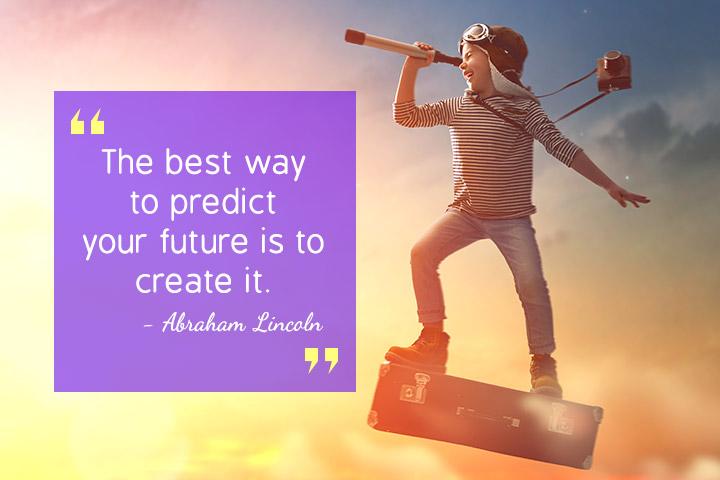 Paint is only wasted when it is in the tube.
"Creativity is contagious. Pass it on!" – Albert Einstein
[ Read: Fun Ways To Motivate Your Child ]
Thought Of The Day Quotes About Books and Reading
A book can be a child's best friend, the best teacher and the best companion in times of need. Getting your children to read a good book is not easy. But using a quote or two to emphasize the value of a book or importance of reading can inspire them. So, here you go.
"You can find magic wherever you look. Sit back and relax, all you need is a book." – Dr. Seuss
"Reading is to the mind what exercise is to the body." – Joseph Addison
A book is like a garden carried in your pocket. – Chinese proverb
"A book is a magical thing that lets you travel to faraway places without even leaving your chair." – Katrina Mayer
Everyone is a reader. Some just haven't found their favorite book yet.
"A book is a gift that you can open again and again." – Garrison Keillor
Between the pages of a book is a lovely place to be.
96.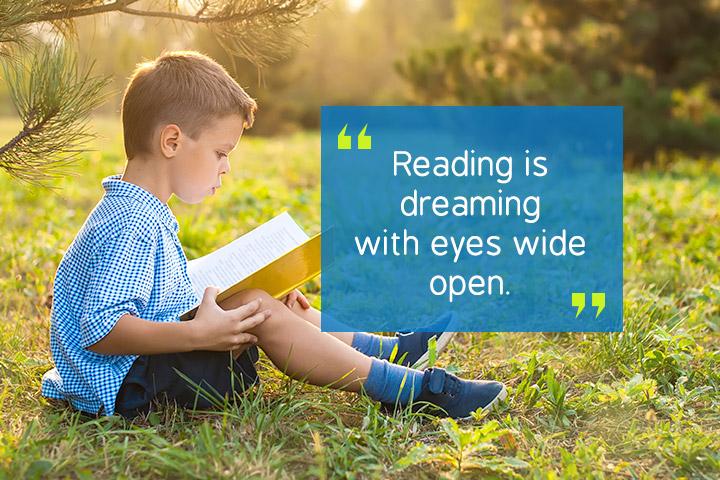 Reading gives us a place to go when we have to stay where we are.
"When you read a great book, you don't escape from life; you plunge deeper into it."- Julian Barnes
"There is more treasure in books than in all the pirate's loot on Treasure Island." – Walt Disney
To open your mind, open a book.
101.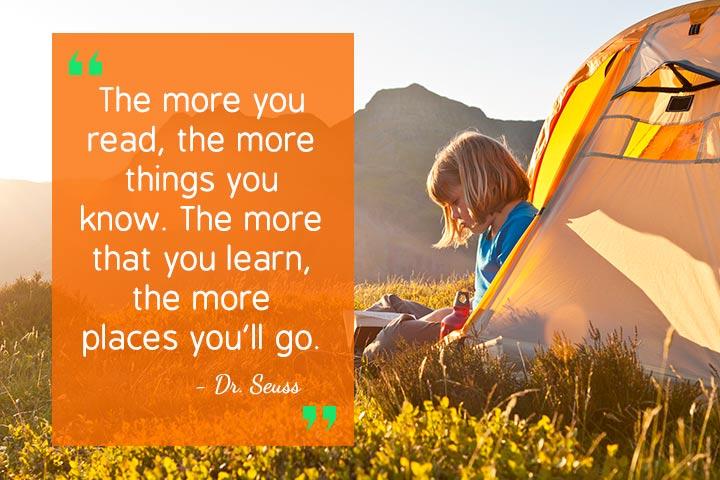 Children are open to learning, imagining and dreaming. All they need is a little push, some encouragement that keeps them motivated and moving forward in the face of whatever life throws at them. And you can give them the inspiration they need with the help of these quotes. Share one every morning, as the thought for that day and see the difference you can make in the child's life.
What was your favorite thought of the day? Tell us about it and more in our comments section.
Recommended Articles:
The following two tabs change content below.