I went into labor with my first baby on the night of my 26th birthday. The next day at 12:16 p.m., I delivered an absolutely perfect baby boy. My husband, Brian, and I named him Reed and we started down our path of parenthood.
We had a rough beginning: Just a few hours after we got home with our new baby, he had a terrifying choking incident that sent us to the emergency room in an ambulance. For weeks, we took turns watching him sleep because we were afraid to take our eyes off him. I guess that was just practice for what was ahead.
Aside from him nursing all the time and seemingly never sleeping, we were blessed with a happy and healthy baby. When he turned 6 months old, I proudly took him in for his well visit. I beamed at his perfect growth chart and he had an uneventful checkup.
A few weeks later we took our first family trip, just the three of us. On our third day at the beach, I played with him in the shallow water. It was there that I felt something hard in his tummy. I told my husband. He couldn't feel anything, but told me to call the doctor when we got home just to be safe. I felt it again the next day on the plane ride home and couldn't shake the feeling that something was wrong. That was Tuesday. 
On Wednesday, I called my pediatrician and told her what I had felt. She told me she couldn't diagnose anything over the phone, but to bring him in next morning and not to worry because it was probably nothing. 
By the morning I had convinced myself that I couldn't actually feel anything in his belly after all. I took him into the exam room and undressed him down to his diaper and laid him on the exam table. The doctor came in and exchanged niceties, and then she put her hands on his belly and stopped chatting with me. I instantly knew that something was very wrong.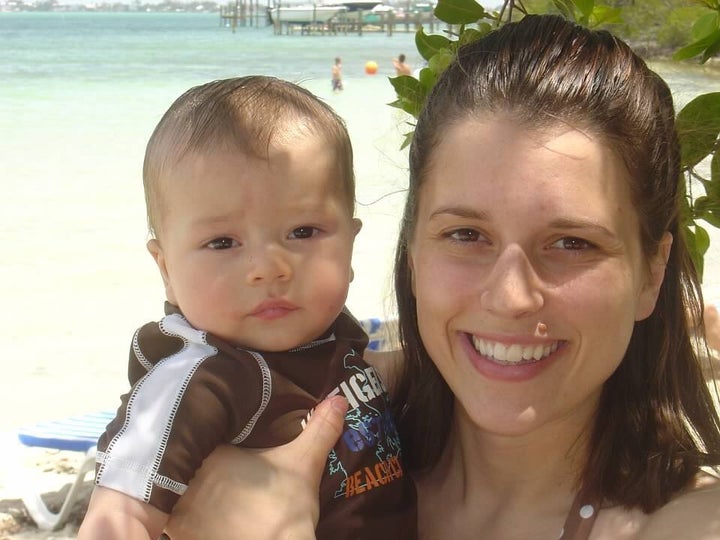 She told me that she was going to send me to a radiology clinic so that Reed could have an ultrasound. I asked her, "When?" and she said, "Right now." I got in my car and called my husband to tell him what was happening, and he sped to meet me at the clinic. We were ushered right in. A technician performed an ultrasound on my exactly 7-month-old baby. She left the room and said the radiologist would be in to speak with us. Then, she came back in and told me to pick up the telephone in the room.
On the other end of the line was my pediatrician. She informed me that they were pretty sure Reed had a Wilms tumor. I struggled to make out what she said. Did she say "rooms tumor"? I knew she said it was on his kidney.
The pediatrician told me to go home, pack a bag and drive to Children's Hospital immediately. I called my mom first. I was hysterical. My mom was a pediatric RN for her entire career. She knew what Wilms tumor was right away. She tried to calm me down. I needed to stay focused. I pulled into my driveway, opened the car door and vomited all over the pavement. 
Brian and I got to the hospital less than an hour later. Reed spent the entire day having tests. He was poked and positioned and constantly pulling at the tubes now connected to his body. We were in a small exam room when the team of surgeons came down to meet with us at about 9 p.m.
They told us there was no time to waste and they were going to operate in the morning. Reed hadn't nursed all day. He would be prepped for surgery overnight, meaning they would pump him with fluids that would make him vomit to clear out his system. I held him all night as he vomited on me multiple times. My in-laws came to the hospital that night with a change of clothes and prayers.
The pediatrician told me to go home, pack a bag and drive to Children's Hospital immediately. … I was hysterical. … I pulled into my driveway, opened the car door and vomited all over the pavement.
My parents and Brian's parents were at the hospital early in the morning. We met with the surgeons again. They explained to us that they were going to take out the tumor and his right kidney. They would weigh the tumor, and if it weighed less than 500 grams, he would qualify for a study and have the chance to bypass chemotherapy and radiation. If it weighed more than 500 grams, they would implant a port during surgery to administer chemotherapy and radiation. They also explained all of the unknowns that could occur during the procedure. He might be on a respirator or have a colostomy bag if the disease had spread to any part of his intestines.
Everything they said was terrifying. We handed over our symptom-free little baby, who was completely oblivious to it all. It was the hardest moment of my life. 
Someone came out during the three-plus hour surgery to give updates. They told us great news: Though the tumor was about the size of a softball, it weighed "only" about 350 grams. I couldn't fathom that there was something the size of a softball in Reed's tiny body. How did I not feel it sooner? To this day, physicians are surprised that I felt it at all. They were able to remove it fully contained without spilling any cells. This was the first bit of good news on our journey. 
Reed spent two agonizing days in the pediatric intensive care unit. I was finally able to hold him. The next few days he spent in a regular room on the surgery floor. The tumor had been sent to pathology. We needed to wait for confirmation that it was, in fact, a Wilms tumor. I asked, "What if it isn't?" and the doctors didn't want to discuss that alternative.
Finally, about four days after Reed's surgery, our newly assigned oncologist came into the room to excitedly share the news that it was a Stage 1 Wilms tumor. We would be released from the hospital and then become part of a study positing that in some cases, especially when it's found early, surgery alone is adequate treatment to cure Wilms. Reed would possibly ― and hopefully ― be able to avoid the adverse late effects of the condition such as infertility, heart failure and secondary cancers.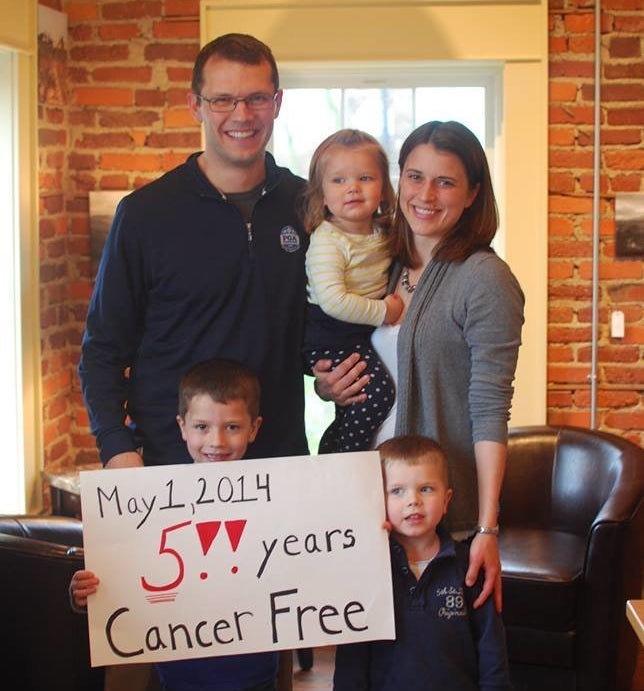 For five years, Reed had follow-up appointments with full work-ups. First, they were every two months, then three, then six and eventually yearly. Those early appointments were long days that filled us with dread. He would give urine samples and blood samples; he would have ultrasounds; contrast would administered through a nasogastric tube before 45-minute renal scans during which he had to lie strapped down in a big tunnel-like structure. Those days were mentally and physically exhausting. They were especially difficult during his infancy and toddlerhood.
The amazing thing is that Reed has almost no memories of the follow-up trips to Children's Hospital. In fact, now he looks forward to going annually. He associates it with getting out of school and perhaps receiving a special treat afterward. A few times he was the lucky recipient of a toy or two.
The first two years were critical. His chance for recurrence then was 10 percent. After that the risk fell to 2 percent, and finally when he got to five years out, it was less than 1 percent. We made it through the years.
Today Reed has no recollection of ever being sick. In truth, aside from the follow-up appointments, our experience with cancer treatment can be reduced to one nightmarish week in 2009. My heart absolutely aches for the families who are in the trenches, going through chemo and radiation for weeks or months or even years on end.
A child's cancer diagnosis is life-changing for so many people. Reed is almost 10. His scar is a thin white line across his stomach that is raised slightly to the touch. He is smart, athletic, kind and happy. He is thriving. He doesn't have any residual trauma. It's his mom and dad who carry the pain.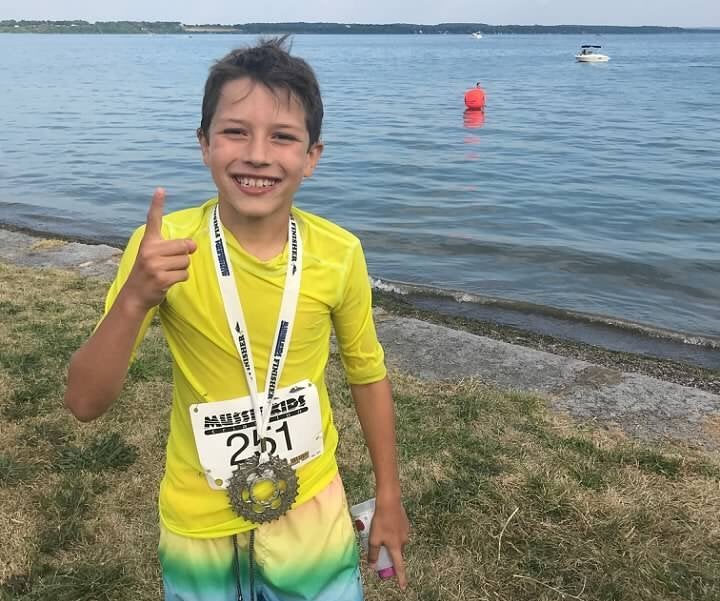 Even though Brian and I are part of this awful club, we don't feel like dues-paying members. We know we got off "easy." But our lives will never be the same either. Reed's physical scar seems insignificant compared to our emotional scars.
I got pregnant just two months after Reed's surgery and after we had met with genetic counselors and determined that although Reed's cancer was genetic, it was not hereditary. That meant our chances of having another child with Wilms tumor were very low. His cancer was essentially a fluke.
At that point, Reed was 9 months old and my visceral reaction to his cancer was the need to build a team of extra kidneys for him. We had been through so much that Reed felt relatively grown up to me. Looking back, and after living with two kids under 2 and then three kids under 4, I wish I could have let him be a baby for longer. I wanted so badly for him to get past those initial hurdles that I wasn't ever truly able to exhale and enjoy his first five years. Things are a little better now as we approach 10 years cancer-free. 
Brian's anxiety built up after Reed's diagnosis. Realizing there was nothing he could do to prevent a relapse weighed heavily on him. He sought counseling at one point and was told he was likely dealing with post-traumatic stress disorder. He tends to bury his feelings about it, but they resurrect themselves any time one of our children has even the slightest ailment. Having no control over Reed's situation seems to have left Brian feeling overwhelming responsibility for our children's well-being and never wanting to "miss" an issue under his watch. It's a burden and a challenge that he lives with daily.
Even though Brian and I are part of this awful club, we don't feel like dues-paying members. We know we got off 'easy.' But our lives will never be the same either.
Early on in our family's battle against Reed's cancer, I was bitter. How did this happen to us? And why? I was careful during pregnancy not to eat any of the foods you shouldn't. I breastfed. I used cloth diapers and made all of his baby food with organic fruits and veggies. I did everything "right." And still, there we were. It seemed so unfair. It was unfair. 
But today I'm no longer bitter ― I'm grateful. My son is healthy and I know not every family is as lucky as mine. So now I want to share my story and raise as much awareness as I can about childhood cancer. 
To many people, these are just the kind of facts that get tossed around every September during Childhood Cancer Awareness Month. But, to me, they are more than just statistics ― they're part of my family's story and they changed our lives.
Do you have a personal story you'd like to see published on HuffPost? Find out what we're looking for here and send us a pitch!