Technology has affected parenting in too many ways to count, and with the introduction of smart speakers like Google Home and Amazon Echo, it seems like there are even more possibilities.
We asked the HuffPost Parents Facebook community about Amazon Echo (and the voice assistant affectionately known as Alexa) and Google Home (home of the Google Assistant) to see if these devices have made any aspects of everyday parenting easier. The responses poured in.
"We are pretty tech averse and were hesitant to get an Alexa, but it has been SO GREAT for the toddlers!" said Samantha Ferguson, who uses it instead of a TV to entertain her kids with stories, play music for family dance parties, and queue up podcasts.
"If Google Home could only figure out how to pour milk into cereal, it'd be worth it's weight in gold!" Nicole Trinidad Padilla wrote, noting that her kids use Google to set timers for reading and taking the puppy out, to turn lights on and off, to find answers to creative questions, and much more.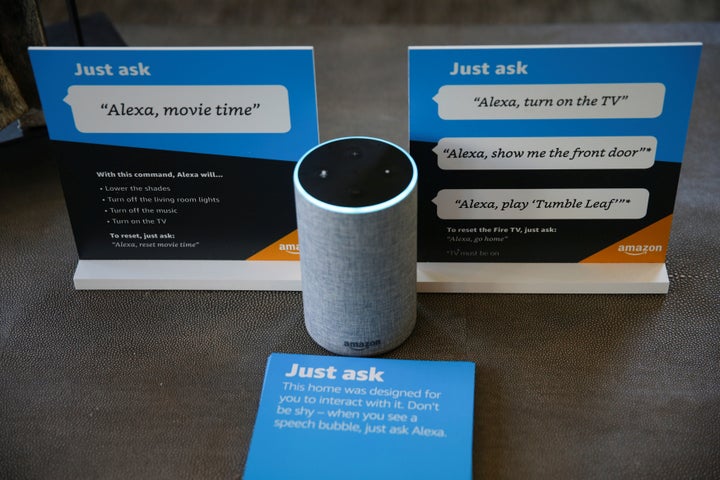 In response to the criticism, both companies have introduced politeness features encouraging kids to use their manners in Alexa and Google Assistant interactions. Parents can also disable direct transactions or enable security features to stop kids from making purchases. And both devices offer parental control functions meant to honor bedtimes, filter out explicit music and recognize individual voices. The two smart speakers also let users see what vocal recordings they've logged and delete them if they wish.
Ultimately, it's up to individual families to decide if Google Home or Amazon Echo are right for their households. Of course, Alexa and the Google Assistant don't replace actual parenting, but they can help pick up the slack and keep the family organized when the daily grind gets overwhelming.
Here are 13 ways Amazon Echo and Google Home can make life easier for moms and dads, according to real parents.
1. Tell A Fun Story
Parents and kids can say, "Alexa, tell me a story" or "Hey Google, tell me a story," and their devices will launch into creative tales. Alexa offers kid-friendly stories like "Puppy Love," "Batter Up," and "New Pet," while Google Home features options like "The-Not-So-Scaredy Cat" and "The Tired Alien."
"I asked my Google Home to read a story to my kids. She began telling a story about a fairy godmother. My kids literally sat for 45 minutes listening to the story. I got so much done during that time," Sophie Yasin told HuffPost.
Echo users can ask their virtual assistant to read them audiobooks from Audible, and Google Home users can do the same with audiobooks they purchase on Google Play.
2. Set Helpful Timers And Reminders
Both Amazon Echo and Google Home let families set timers and reminders for all sorts of things ― from time-outs and screen time to reading and homework sessions to morning alarms. The virtual assistants can remind parents to complete their own tasks, too,
"The reminders alone are worth it. I set it to tell my kids when to head out to the school bus, when to take their medicine, when to start their homework, when to get ready for soccer, when to get in the shower before bedtime, etc," said Carrie Kindt. "With four kids, I felt frantic trying to keep everyone on schedule, and Alexa completely alleviated that. She's my 'mother's helper.'"
Parents can also use the timer feature to engage in some trickery. "Have your kid ask Alexa to set a timer for 10 minutes. The parent can go into the app and change it to five minutes without [the] kid knowing," Jamie Rosemary explained.
Alexa also has an "Out the Door" skill, which turns the morning routine into a game in which kids have to complete missions like "get dressed," "brush your teeth" and "put your shoes on."
3. Play Kid-Friendly Music
Families can ask Alexa or the Google Assistant to play a specific song, albums, artists, playlists and more to start an impromptu dance party or have a dinnertime DJ.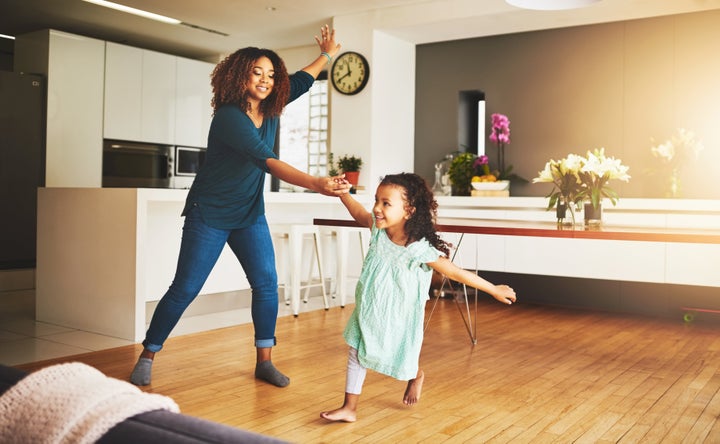 "Everything is more fun with music," said Dawn Allen. "We have Alexa play the 'clean up' song when it's time to clean up the playroom."
Other parents reported using their devices to play soothing lullabies, kid songs like "Wheels on the Bus" and even "The Imperial March" from "Star Wars" to accompany "epic lightsaber fights."
Google Home allows parents to create special playlists for their kids and access them with the prompt, "Hey Google, play [insert name]'s playlist." Alexa's Music Bop Adventures game uses music to get kids moving.
"We use Google Home to play fun songs to dance to before school! Makes waking up a bit more fun," said Shelby Chica Rica. "We ask Google to play songs we think would be funny, like 'What Does The Fox Say?'"
4. Make Random Noises
"We use Alexa to help bypass toddler meltdowns by getting her to fart, sneeze, cry and other random noises to divert," Kaydi Lazz told HuffPost.
Both Google Home and Alexa have animal sound features, so kids can ask "What sound does an elephant make?" or "What sound does a chimpanzee make?" and then hear the noise in question.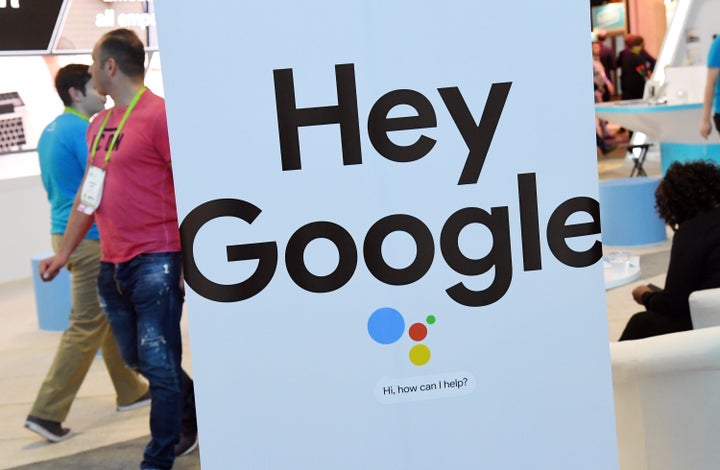 The two devices also offer soothing ambient sounds like rainfall, forest environments and ocean tides to help kids fall and stay asleep.
5. Answer Weird Questions
"At a certain age, your kids start asking questions that you don't know the answer to. Google knows," said Natalie Drennon. Indeed, Google Home and Alexa give answers to life's most random queries about geography, word etymologies and other trivia.
"The boys often use it to ask their more obscure questions ― such as "Hey Google, what color is rhino sweat?" Elsbeth Willey Russell noted.
The virtual assistants can also offer guidance during art projects (ask what colors to mix to make purple, for instance) or even vacation planning. In preparation for family travel, kids can ask questions like, "How long does it take to fly to Colorado?" or "How do you say 'thank you' in French?"
6. Report The Weather
Kids may argue with their parents about wearing sunscreen or a sweater, but when the Google Assistant or Alexa is telling them it's going to be sunny or chilly, it's harder to disagree.
"My 10-year-old asks [Alexa] about the weather every morning, so I don't have to argue anymore about taking a jacket/raincoat/umbrella or not to school," Paola Sebastianelli said.
7. Play Games
There are a number of child-friendly games on Google Home and Amazon Echo.
"My daughter loves asking Google to 'Play Mickey Mouse Adventures.' Its interactive and she loves it," wrote Jacqueline Tordella.
Other Google games include "What's Your Inner Animal," "Toy Story Freeze Dance," "Disney Princess," "Talk Like A Chef," "Maui's Music Game" and more.
There are also knowledge-testing games like Star Wars Trivia and Sports Illustrated Kids Trivia.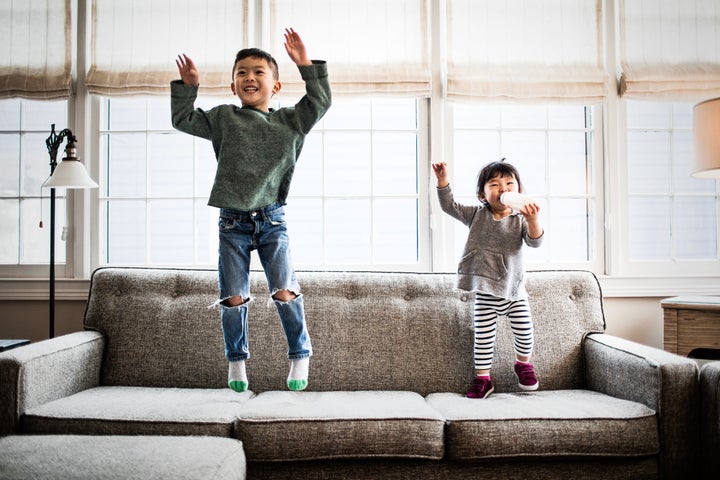 Alexa's games include the "Animal Workout," "Lemonade Stand," "Panda Rescue" and even a family-friendly version of "Would You Rather?" Alexa also quizzes kids on math skills like multiplication and geography knowledge like state capitals.
8. Cut Down On Yelling
Families with multiple devices often set up intercom systems between different rooms.
"I put an Echo Dot in each kid's room and use the Drop In feature like an intercom," Casey Rodrigue explained. "It has cut down on the amount of yelling across the house that I do."
Google Home's "Broadcast" feature allows a similar system.
9. Make Shopping Lists
Both Alexa and the Google Assistant let users create lists and add items to them verbally. For parents, this means kids can get involved with the grocery list — though you may need to look out for sneaky cookie or toy additions.
"Everyone can add things to the shopping list — though 'more Lego sets' makes it on there occasionally," said Kristi Pang.
Parents can also go a step further and directly order items they need like diapers without even having to pick up their phones.
10. Hit The Lights
Another helpful function for parents is the lights feature, which helps kids turn on or off lights with hard-to-reach switches. Multiple parents told HuffPost their little ones are able to get up and go to the bathroom in the middle of the night without calling for a parent to turn on the lights. This feature can also help kids who are afraid of the dark.
"One of the basement light-switches is on the other side of the basement away from the stairs, and the kids never remember to turn it off or say it is too scary to turn it off," said Rebecca Brown. "We replaced it with an Alexa-enabled switch and now we just say 'Alexa turn off the light in the basement' whenever the kids come back upstairs. It saves so much frustration!"
11. Get Cooking
Google Home has step-by-step directions for cooking and baking family meals and treats. For example, users can say, "Hey Google, give me a recipe for no-bake cookies" and follow along.
Alexa also offers a number of recipe skills, and both assistants can answer general cooking questions (cook times, calorie counts, measurement conversions, etc.) throughout the meal-prep process.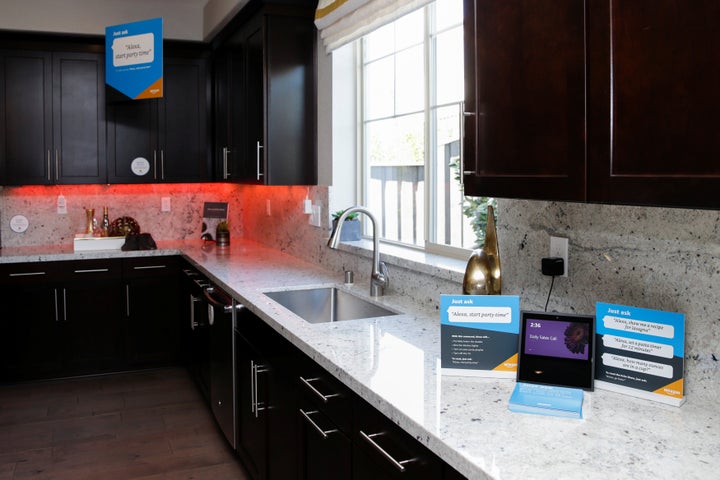 12. Settle A Dispute
Alexa has a skill called Kids Court, in which siblings or friends who are having a disagreement explain the problem to Alexa, answer follow-up questions that encourage kids to be honest and kind and then receive a ruling based on their replies.
Google Home also has tools to help settle a dispute, like flipping a digital coin or rolling a digital die with the user's preferred number of sides. For example, kids can choose a number between one and 10, ask Google to roll a 10-sided die and deem whoever's number was closest the winner.
13. Find Lost Items
Kids with their own iPads or other devices can connect them to Google Home, so that when they misplace the items, they can just say, "Hey Google, find [insert name]'s device." Following this command, the device will ring at full volume.
Amazon Echo has a similar mechanism for phones and other devices. And both the Echo and Google Home have features to remind users where they put things. So, for instance, if a parent decides to hide candy from their children, they can tell Alexa or the Google Assistant where they hid it and then ask the assistants to remind them when they want to find it again later.