Actress Anna Faris remembers how much fun she had cooking with her mom as a kid, which makes the moments when she gets to cook with her 6-year-old son, Jack, even more special. She won't lie, though. It can be an unpleasant experience at times.
"First of all, it's a mess," Faris told HuffPost in an interview on Wednesday.
Jack, whom Faris shares with actor Chris Pratt (the couple announced their split in August 2017), apparently is fond of one of the messiest processes in cooking: cracking eggs. Faris said he's also a fan of making "disgusting cookies" with some unusual ingredients. And "he loves the fire elements of the stove, which unnerves me," Faris joked. 
Thanks to birthday gifts from Faris' mom, Jack is well prepared with his own little apron and a set of child-safe kitchen knives. The "Mom" star said cooking with her son is "very much an important family bonding time."
This experience led Faris to partner with Uncle Ben's for the rice company's Homework Pass Challenge, which encourages schools to use the brand's "homework pass kit" so students can cook with their families every night for a week. The kit is available on the Uncle Ben's website, and includes downloadable kitchen lessons that feature recipes alongside education resources like math problems and fun facts.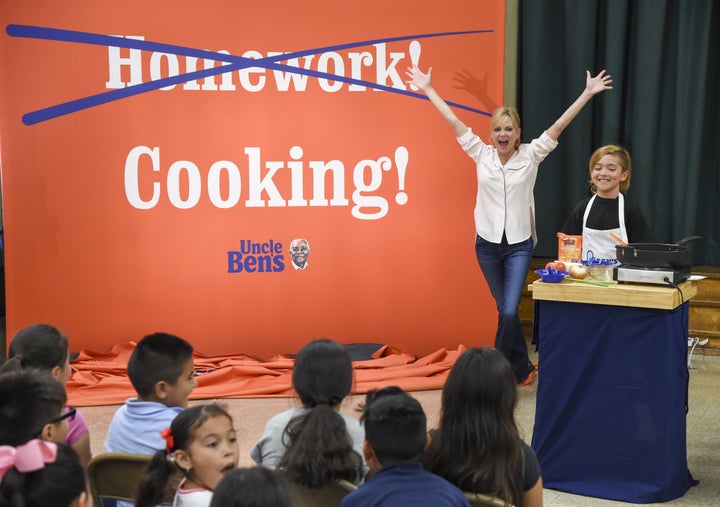 Faris said she loves the idea of promoting family time together and has seen how her son is more open to trying new foods when he's a part of the cooking process.
"I think when they're involved with the cooking and their families, not only do they try more things, but maybe they're less likely to trudge down to the dinner table, too," she said.
The actress, who also talks about motherhood on her podcast "Unqualified," said she remembers not always being a fan of eating dinner with her family as a kid.
"We had family dinners almost every night," she said. "I remember feeling sulky, but halfway through dinner, I'd be like, 'Oh yeah, we're bonding.' I'm so grateful that my parents insisted on that for us ― my brother and I ― growing up."
She said her mom, whom she called "an amazing cook," typically prepared "very healthy food," which Faris is grateful for now. She did say, however, that sometimes while visiting her friends' houses, she'd feel a bit jealous of their options.
"I could down a bag of chips on a playdate," she joked.